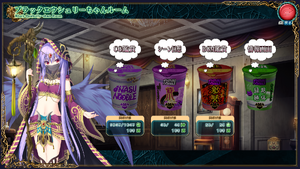 Avid player of Eushully titles since 2018 and Wiki Editor for Millennium War Aigis Wiki.
I also play Millennium War Aigis, Shiro Project:RE, Flower Knight Girl, as well as Iris Mysteria.
Used to play Kantai Collection (Amatsukaze best girl).
Not very active on this wiki, feel free to contact me directly via Discord at Luminon#8818.
Eushully Titles
[
]
Titles ordered by earliest completed, not necessarily reflective of playing order.
Don't recall exact starting dates for some of the earlier titles I played.
Title
Route
Started
Finished
Kamidori Alchemy Meister (ENG)
All
-
June 17, 2018
Kami no Rhapsody (JP)
All
-
August 9, 2018
Soukoku no Arterial
All
-
September 6, 2018
Amayui Castle Meister
Route A
-
September 26, 2018
Route B
-
October 9, 2018
Fuukan no Grasesta
-
December 1, 2018
Completed - December 10, 2018
(98+ Hours)
Perfected - December 19, 2018
Sankai Ou no Yubiwa
Sonya Route (Law)
February 6, 2019
February 10, 2019
Sonya Route (Chaos)
April 25, 2021
April 26, 2021
Rafaela Route (Law)
April 26, 2021
April 27, 2021
Rafaela Route (Chaos)
April 27, 2021
Aritz Route (Law)
April 27, 2021
April 28, 2021
Aritz Route (Chaos)
April 29, 2021
Arvid Route (Law)
April 29, 2021
Arvid Route (Chaos)
April 30, 2021
Borja Route (Law)
April 30, 2021
May 1, 2021
Borja Route (Chaos)
May 1, 2021
Agnes Route (Law)
May 2, 2021
May 3, 2021
Agnes Route (Chaos)
May 4, 2021
Tenbin no La DEA. ~Ikusa Megami MEMORIA~
Apostle End
March 29, 2019
April 7, 2019
Abiluse End
April 7, 2019
April 10, 2019
Kachua End
April 12, 2019
Roka End
April 12, 2019
Unfinished, no idea how to trigger
Tenmei no Conquista
Base Game
May 30, 2020
June 9, 2020
Expansion
March 3, 2021
March 12, 2021
Order of Play
[
]
Soukoku
-> Kamidori (ENG)
-> Rhapsody (JP)
-> Amayui
-> Fuukan
-> Sankai
-> Ikusa Megami MEMORIA
-> Tenmei
-> Sankai (Finishing up)